Gold Records celebrate and codify the Asian and Pacific Islander (API) culture through programs that strengthen generational bonds, enshrine our legacy, and shape the narrative of our future.
The first Gold Record is the Gold House Book Club. After a successful pilot event with The Joy Luck Club, Gold House formalized the Book Club as a series of curated book lists and virtual events to help APIs better understand our identity, experience, and culture in today's political and social climate. Book Club Lists will be published every six months with related programming, i.e., a "syllabus" every "semester," on the Gold House website as well as social media channels. A selection of childrens' books will also be featured to share diverse stories with young audiences during their critical stages of development.
Download the Fall 2020 & Winter 2021 Book Club List
Follow us on Instagram, Facebook, and Twitter to receive the latest updates on these events.
GOLD HOUSE BOOK CLUB LIST FALL 2020 & WINTER 2021
October 2020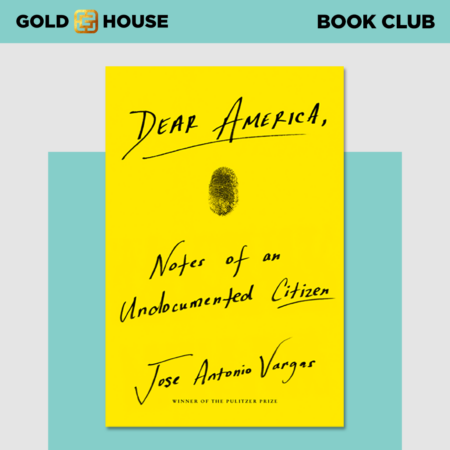 Dear America: Notes of an Undocumented Citizen
by Jose Antonio Vargas
November 2020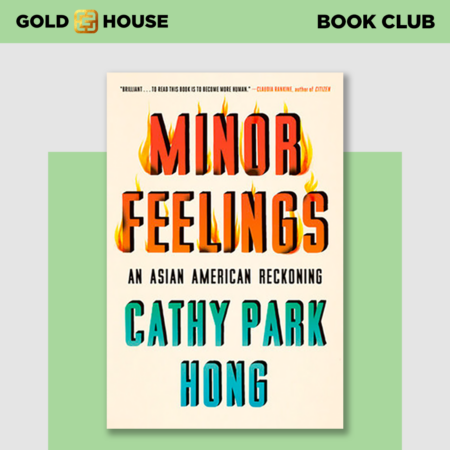 Minor Feelings: An Asian American Reckoning
by Cathy Park Hong
December 2020


How to Write an Autobiographical Novel
by Alexander Chee
January 2021


American Born Chinese
by Gene Luen Yang
February 2021


Pachinko
by Min Jin Lee
March 2021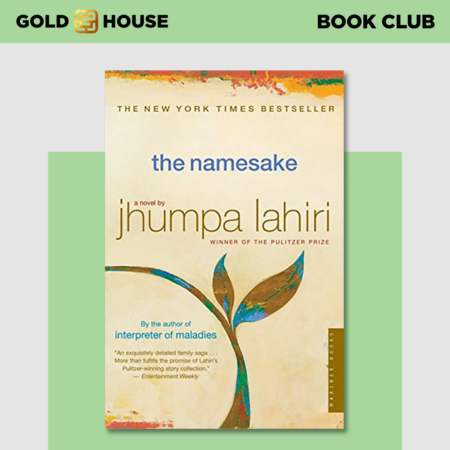 The Namesake
by Jhumpa Lahiri
BEGINNER BOOKS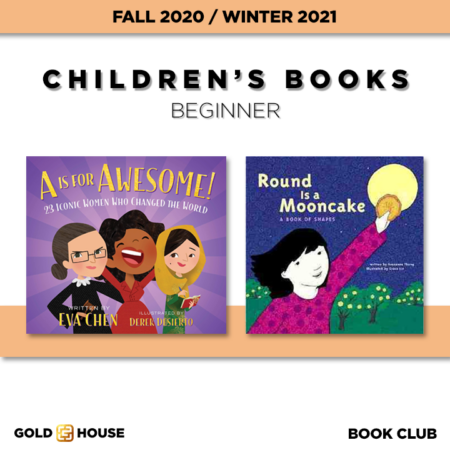 A Is for Awesome!: 23 Iconic Women Who Changed the World by Eva Chen
Round Is A Mooncake: A Book of Shapes by Roseanne Thong
EARLY READERS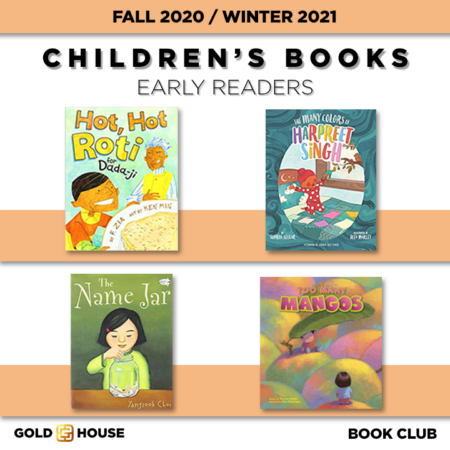 Hot Hot Roti for Dada-Ji by Farhana Zia
The Many Colors of Harpreet Singh by Supriya Kelkar
The Name Jar by Yangsook Choi
Too Many Mangos by Tammy Paikai
MIDDLE GRADE READERS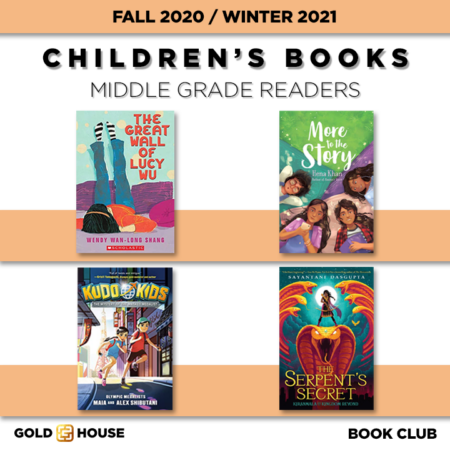 The Great Wall of Lucy Wu by Wendy Wan-Long Shang
More to the Story by Hena Khan
The Mystery of the Masked Medalist by Maia Shibutani, Alex Shibutani
The Serpent's Secret by Sayantani DasGupta
GOLD HOUSE BOOK CLUB ADVISORY COUNCIL
The inaugural Book Club List was created through a rigorous selection process with the help of an Advisory Council of leading API writers, activists, and professors.
Aileen Lee, Founder & Partner, Cowboy Ventures
Amy Tan, Author
Anthony Ocampo, Ph.D, Associate Professor of Sociology, Cal Poly Pomona
Catherine Ceniza Choy, UC Berkeley Professor of Ethnic Studies
Christine Bacareza Balance, Associate Professor of Performing & Media Arts and Asian American Studies, Cornell
Fariha Khan, Associate Director, Asian American Studies Program, University of Pennsylvania
Helen Zia, Author & Activist
Jafreen Uddin, Executive Director, Asian American Writers' Workshop
Jeff Yang, Writer & Journalist
Jennifer Ho, Director, Center for Humanities & the Arts; Eaton Professor of Humanities and the Arts; Professor, Ethnic Studies; University of Colorado Boulder
Josephine Park, Director of Asian American Studies, Professor of English and Undergraduate Chair, University of Pennsylvania
Dr. Linda Trinh Vo, Department of Asian American Studies, University of California, Irvine
Pawan Dhingra, Professor and Faculty Equity and Inclusion Officer at Amherst College
Phil Yu, Blogger & Podcaster
Dr. Russell Jeung, Professor of Asian American Studies, San Francisco State University
Sayantani DasGupta, Physician, Scholar, Children's Book Author, Senior Lecturer at Columbia University
Shalini Shankar, Professor, Northwestern University
Shilpa Davé, Assistant Dean of College of Arts and Sciences and Assistant Professor of Media Studies at the University of Virginia
Soo Ah Kwon, Associate Professor and Head of Asian American Studies, University of Illinois at Urbana-Champaign
Viet Nguyen, Writer
Yen Le Espiritu, Distinguished Professor of Ethnic Studies, University of California, San Diego