Gold Rush
Gold Rush is an immersive 12-week program offering targeted masterclasses, 1:1 advising, and a tight-knit community of Asian Pacific Islander (API) founders.
How It Works
Founders receive:
$150K investment via SAFE by Gold House Ventures, the definitive fund investing in API founders

Fundraising support

Masterclasses and workshops led by industry experts

1:1 advising with a dedicated Advisor, plus office hours with subject matter experts

A tight-knit community of other API founders

In-person founder showcase
FAQ
Each Gold Rush company receives $150,000 in seed funding in exchange for 5% equity on a post-money Simple Agreement for Future Equity (SAFE), the "Gold Rush SAFE."

When your company is admitted to Gold Rush, you'll receive $150,000 up front and we enter into a participation agreement that includes guidelines around Gold House Ventures' right to invest in future financing rounds.

When your company raises its first priced round, the Gold Rush SAFE converts into preferred shares representing 5% of the company. Other investors in that round will purchase shares at the price per share of the preferred stock being sold in the round.

We accept 8-10 companies per cohort, and at least one principal founder must identify as Asian and/or Pacific Islander.

All required programming is held virtually and available to founders based anywhere in the U.S.

Selected founders will be notified by the Gold Rush program leads after the Selection Committee has completed the voting process. Fall 2022 applications are due August 28th and finalists will be interviewed on a rolling basis through early September. The selected class will be notified by late September.

Our standard SAFE agreement can be found here. Tl;dr is that we invest $150,000 at an effective $3 million post-money valuation cap.

In order to be eligible to receive the $150,000 in seed investment, your company must be structured as a C Corp (rather than an LLC or S Corp). Companies that are currently operating as LLCs may apply, but if selected must convert to a C Corp in order to receive investment.

If you've raised on terms that differ from the Gold Rush SAFE terms, we still encourage you to apply. If selected as a finalist, a member of our team will be available to discuss options for funding. Given the hands-on nature of our program, 1:1 time dedicated by our advisors, and long-term access to the Gold House network via Gold House Futures (a lifelong membership community that unites the next generation of top API entrepreneurs, creatives, and social impact leaders), we strive to meet our ownership threshold across all Gold Rush companies, and will find a way to work with you if there is mutual fit.

Over the 12 weeks, you'll have access to a variety of community building and networking opportunities to meet other founders in your cohort. You'll also be matched with an Advisor who you can meet with 1:1 weekly, biweekly, or at some other cadence that works for you both. Throughout the program, we'll host four deep dive sessions that are designed to increase your ability to build, scale, and fundraise. You'll hear from subject matter experts and founders that are a few steps ahead as you deep dive into topics such as Brand (and how to articulate it), Fundraising (from pitch decks to term sheets), Company (how to approach product and growth hacking), and Leadership (how to manage the human aspect of being a founder). The program will culminate in an opportunity for the founders to showcase their products and services to investors and the Gold House network.

Approximately 2-3 hours per week. In order to graduate and be eligible for Gold Rush Alumni benefits, we expect your participation in the majority of sessions and networking opportunities. Your active engagement with your advisor and other founders in your cohort is key to building the community that is core to the Gold Rush experience.
Hear From Our Alumni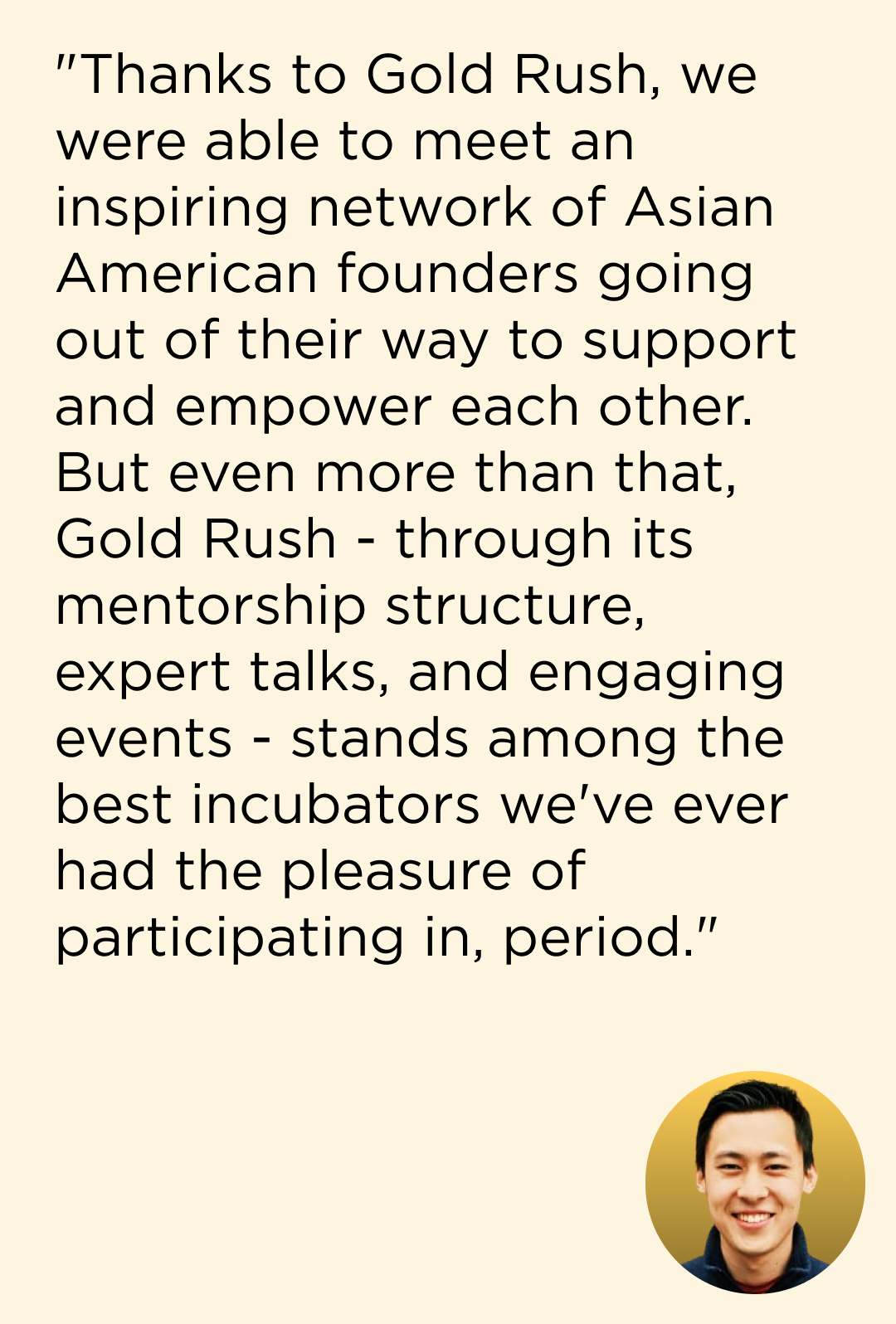 James Li, Mighty Health
Fall 2020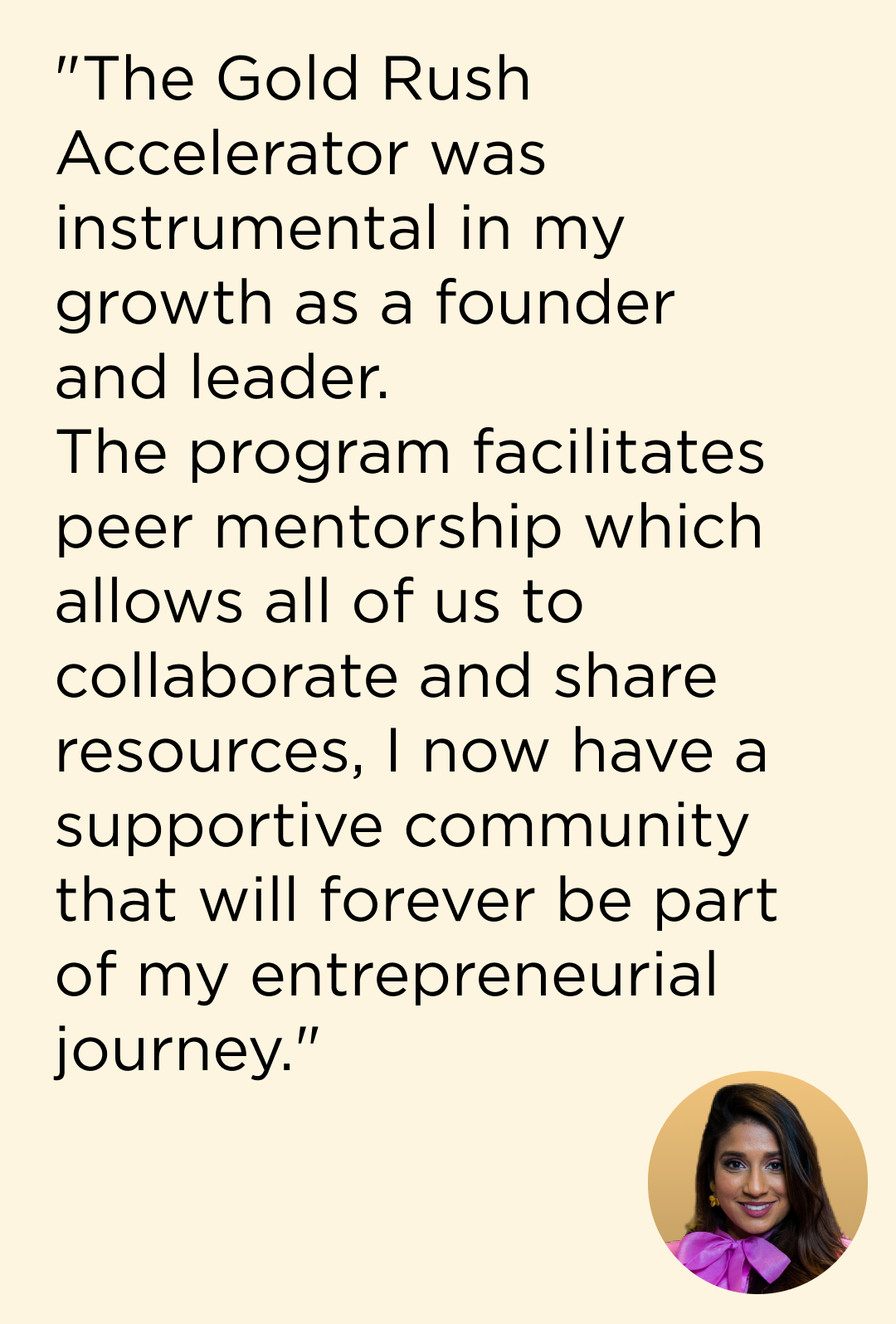 Tania Kottoor, WESTxEAST
Spring 2022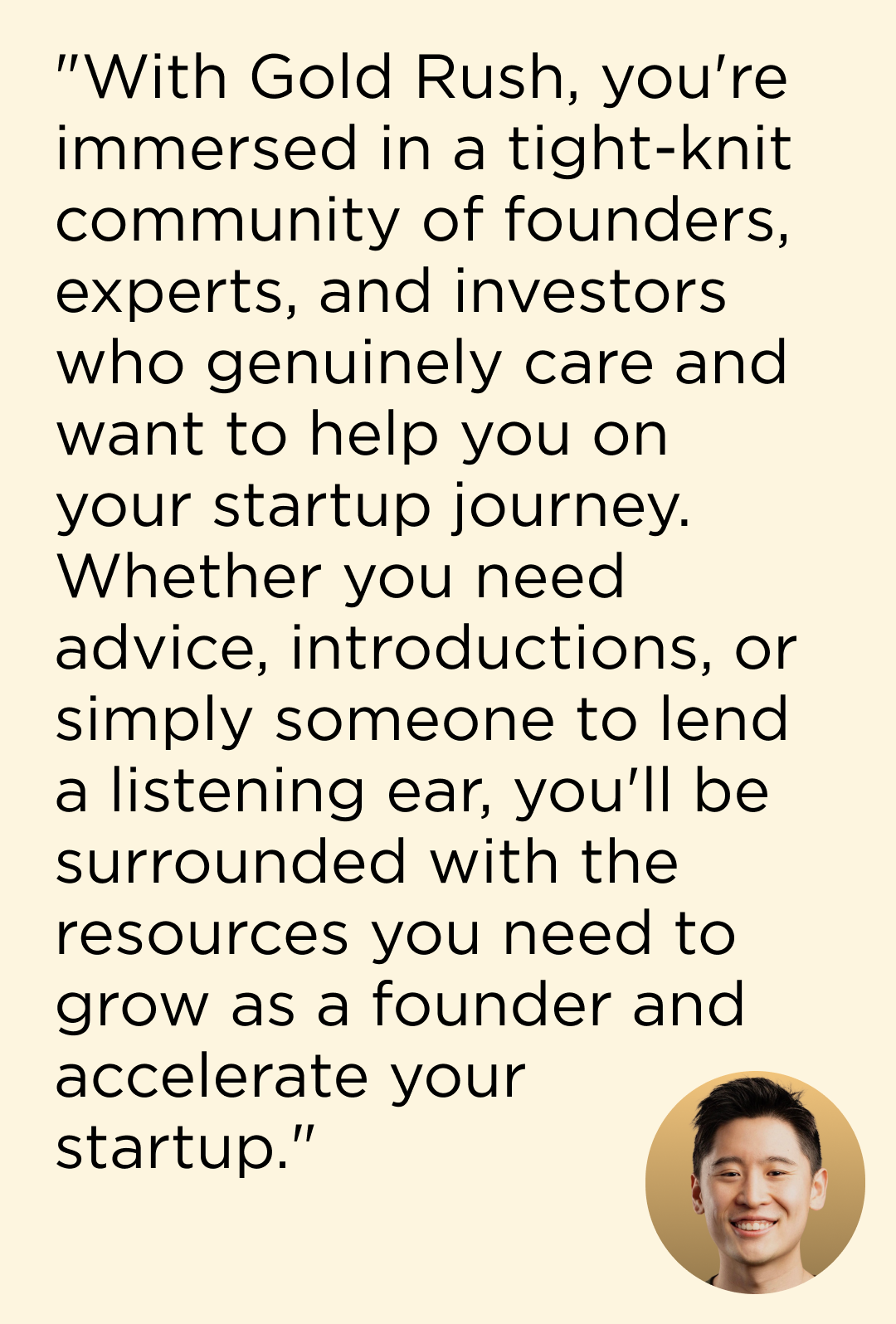 Gene Zhu, Afar Foods
Spring 2022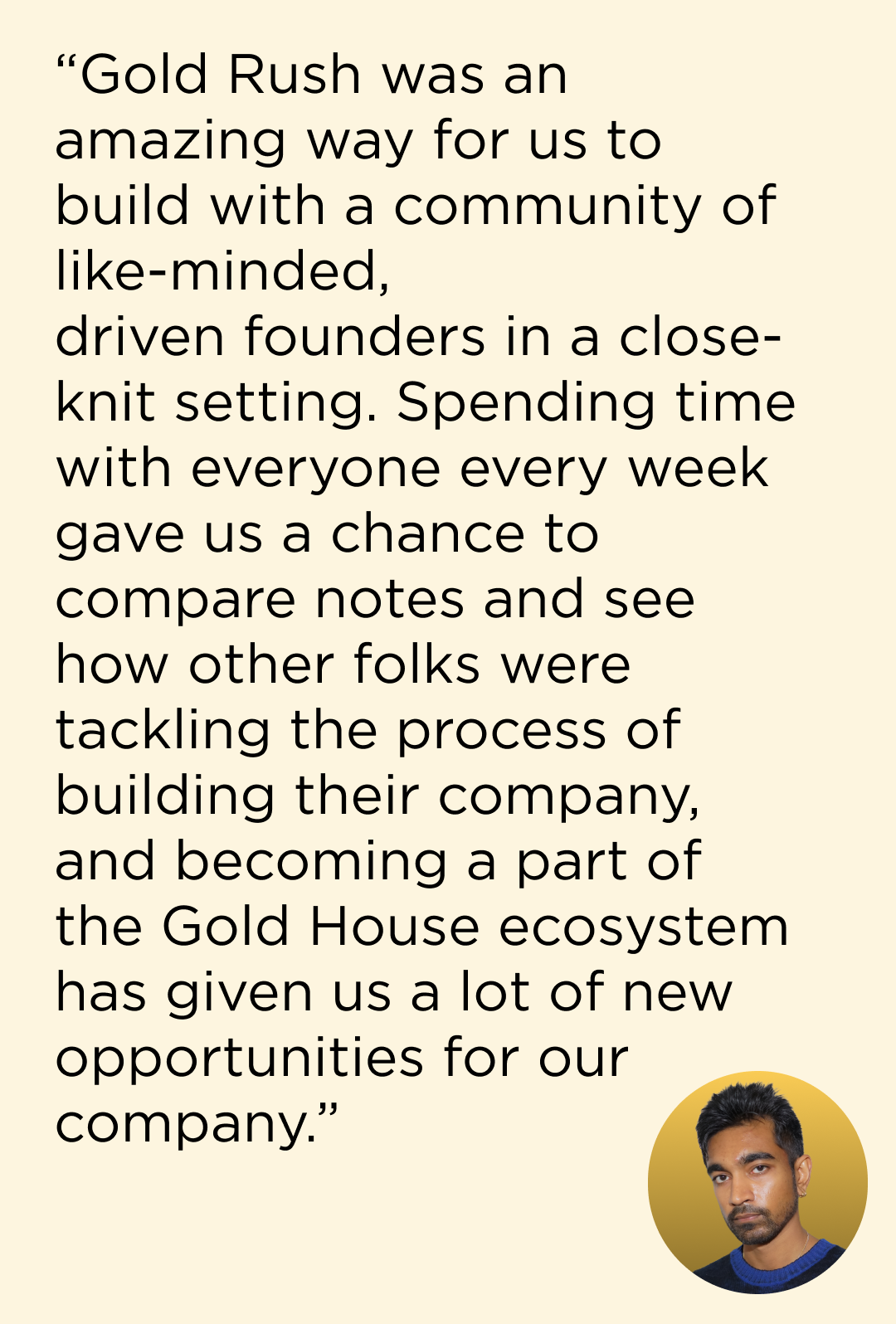 Megh Vakharia, SymphonyOS
Fall 2021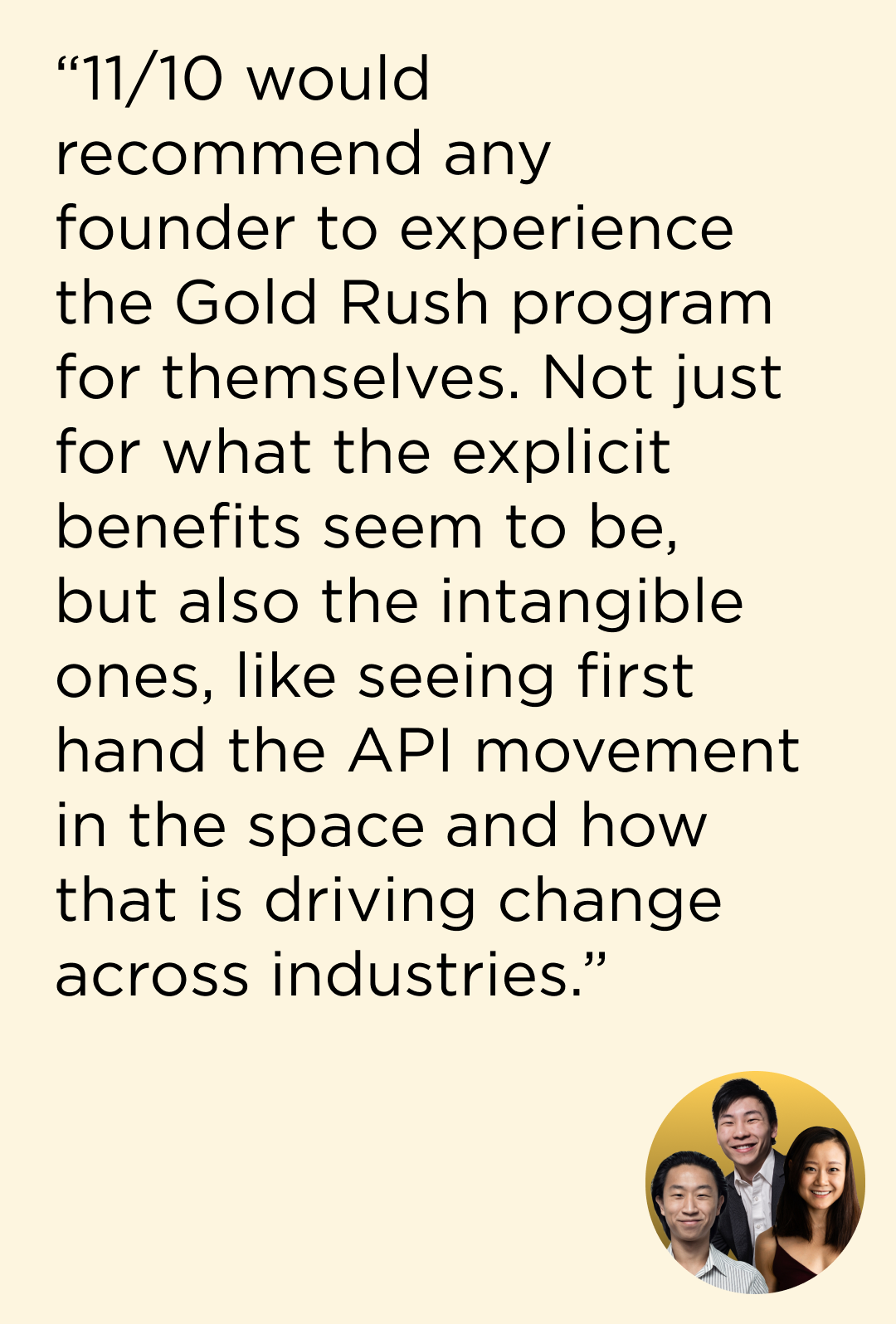 Dina Shi, Ian Seah, Marc Seah, Tochi Snacks
Fall 2021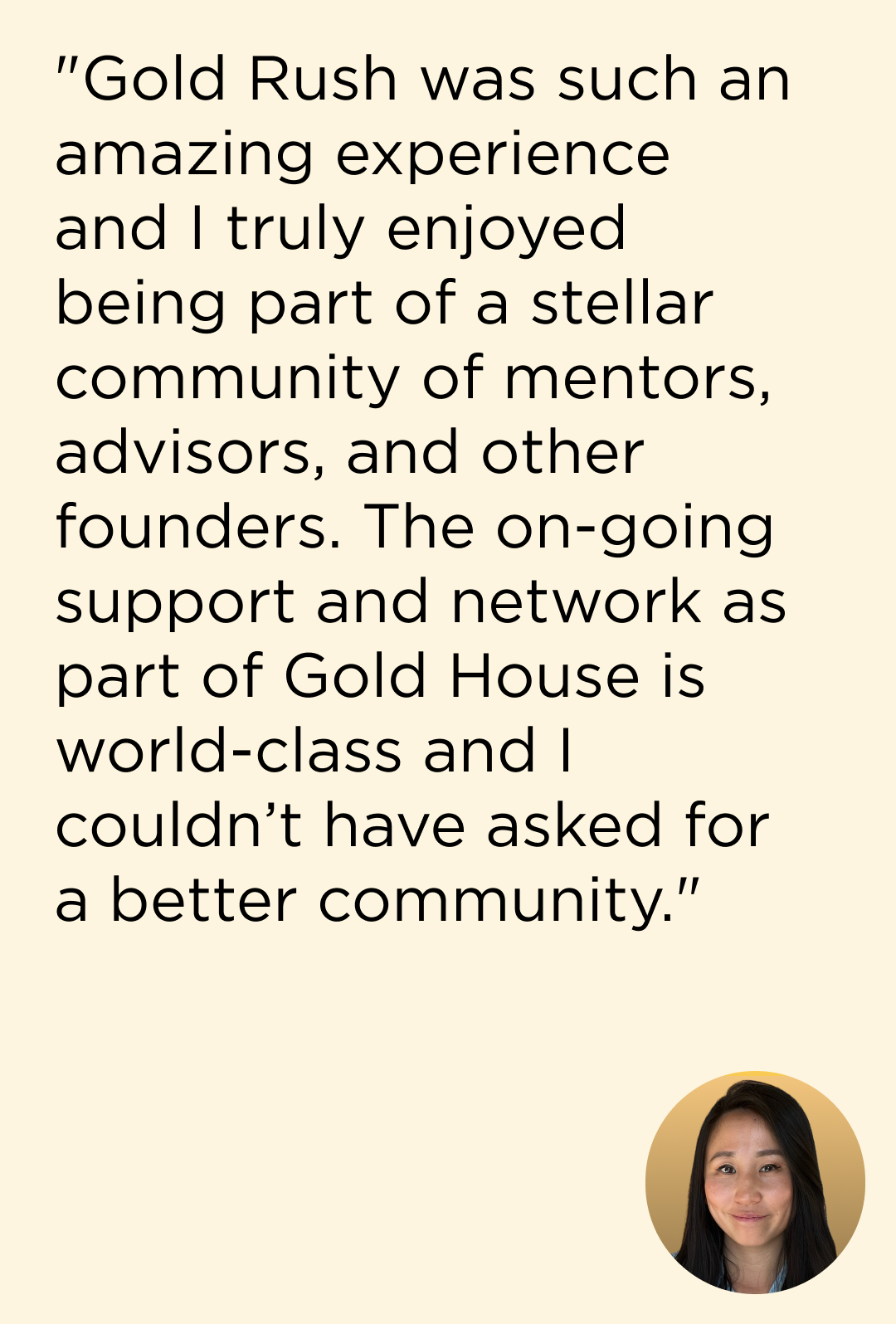 Gina Shi, munchrooms
Spring 2022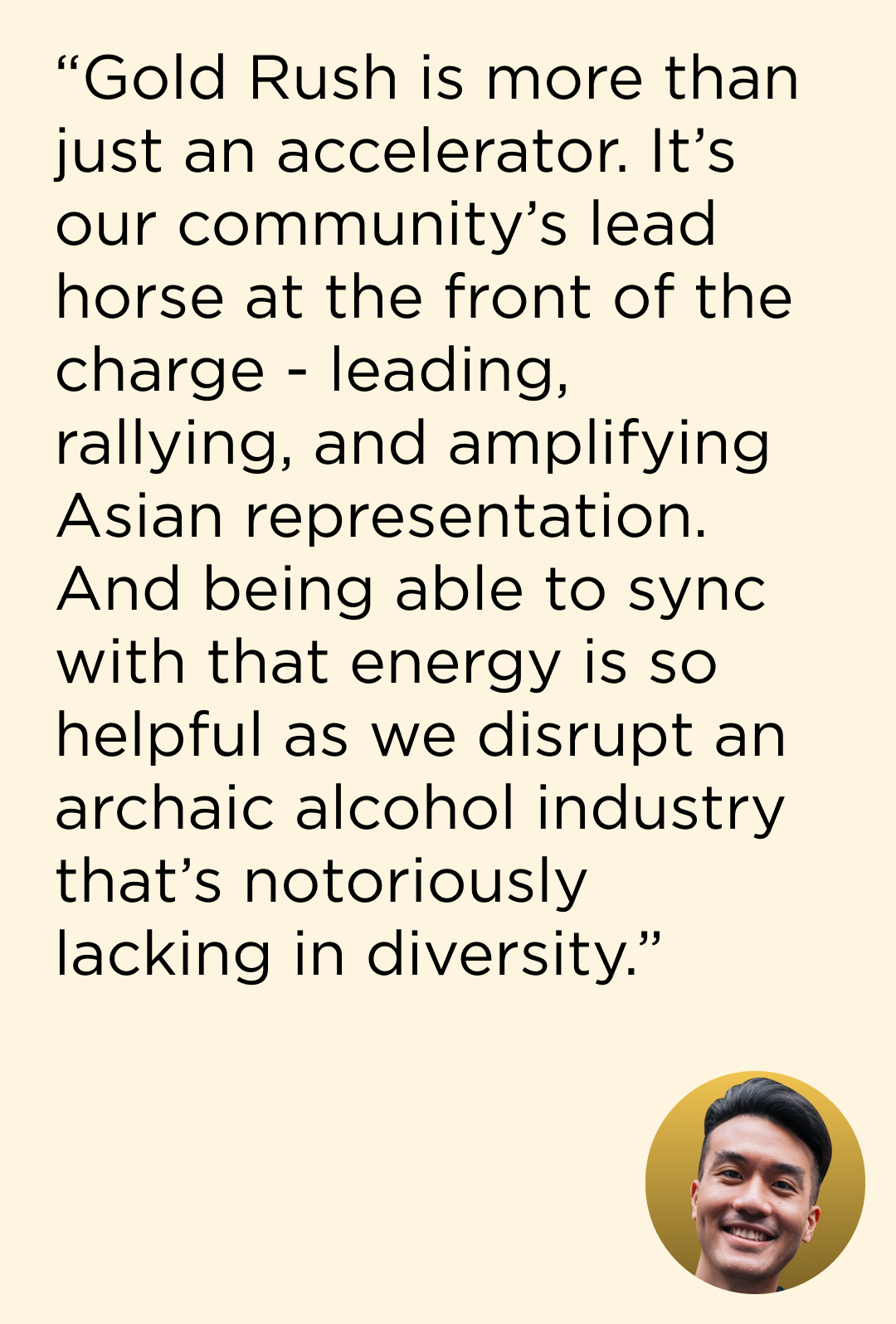 Kevin Wong, Lunar
Spring 2021
Past Advisors
Advisors are iconic entrepreneurs, growth masterminds, and leading investors who mentor our founders.
Dagne Dover, Co-Founder and COO
Ripple Ventures, Principal
Felicis Ventures, Principal
Andreessen Horowitz, Partner
Umai Hospitality Group, Founder
Health-Ade, Co-Founder & Chief Sales Officer
Apply Now
Ready to be part of our next Gold Rush cohort?
Companies in any industry with at least one Asian Pacific Islander (API) identifying founder are encouraged to apply! Applications due 11:59pm PT August 28th.
About
Gold House Ventures
Gold House Ventures is the preeminent Asian and Pacific Islander-focused fund and first venture fund led by a nonprofit General Partnership that enables shared access across the venture ecosystem.